In recent years, the integration of CBD (cannabidiol) into massage therapy has gained significant popularity. This natural compound extracted from the cannabis plant offers a plethora of therapeutic benefits, enhancing the relaxation and rejuvenation experienced during a massage. Let's delve into the fascinating world of CBD and uncover the remarkable advantages it brings to the realm of massage therapy.
Enhanced Relaxation and Stress Relief
CBD-infused massage therapy offers an unparalleled level of relaxation and stress relief. When applied topically, cannabidiol interacts with the body's endocannabinoid system, promoting a sense of calm and minimizing anxiety. By easing tension and soothing the mind, CBD elevates the overall massage experience, allowing the recipient to reach a deeper state of relaxation and mental tranquility.
Powerful Anti-Inflammatory Properties
CBD possesses remarkable anti-inflammatory properties that can revolutionize massage therapy. Whether dealing with chronic pain, post-workout soreness, or injury recovery, incorporating infused oil into a massage can provide significant relief. The cannabinoids in CBD interact with receptors in the body's immune and nervous systems, reducing inflammation and alleviating discomfort. This natural alternative to traditional pain-relief methods offers a gentler yet potent approach to managing pain and inflammation.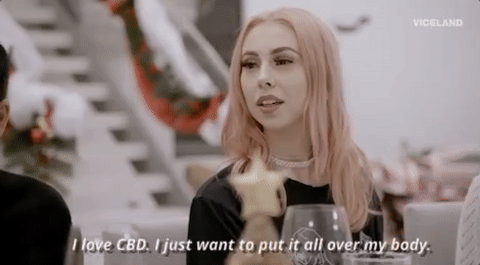 Improved Skin Health and Rejuvenation
CBD has shown tremendous potential in promoting healthier skin when used in massage therapy. The compound's antioxidant properties help combat free radicals, reducing signs of aging and promoting a youthful complexion. Infused-oil also moisturizes and nourishes the skin, enhancing its overall health and appearance. When combined with massage techniques, infused oils provide a soothing and revitalizing experience that leaves the skin feeling refreshed, rejuvenated, and vibrant.
Deepened Muscle Relaxation and Recovery
The incorporation of cannabidiol into massage therapy can profoundly enhance muscle relaxation and recovery. It's analgesic properties help alleviate muscle tension and soreness. This allows for a more effective release of tight knots and trigger points. The compound's interaction with the endocannabinoid system promotes better blood flow and oxygenation to the muscles, speeding up the recovery process. By combining the benefits of massage therapy and CBD, individuals can experience faster healing, lessen lymph congestion over injury site, reduced muscle fatigue,  and improved overall performance.
CBD-infused massage therapy presents a remarkable synergy of natural healing. From relaxation and stress relief to anti-inflammatory properties, improved skin health, and muscle recovery, CBD enhances the benefits of massage therapy, unlocking a world of holistic well-being. Embrace the power of CBD and discover a new level of relaxation and rejuvenation. Book your CBD session and receive a complimentary take home balm.  We've partnered with a local company called The Tenacious Seed to provide you with access to uniquely blended, premium-quality CBD products grown in Virginia's very own backyard. The Tenacious Seed uses state-of-the-art independent testing to ensure you are getting a pure, potent solution to meet your needs. They also take pride in knowing their products are kept organic and free from harmful chemicals and pesticides at their fully licensed farm. For more information visit their website or stop by today and see for yourself.